What is 5050 Travelog and who is behind the blog and the camera?
The Who and the Why…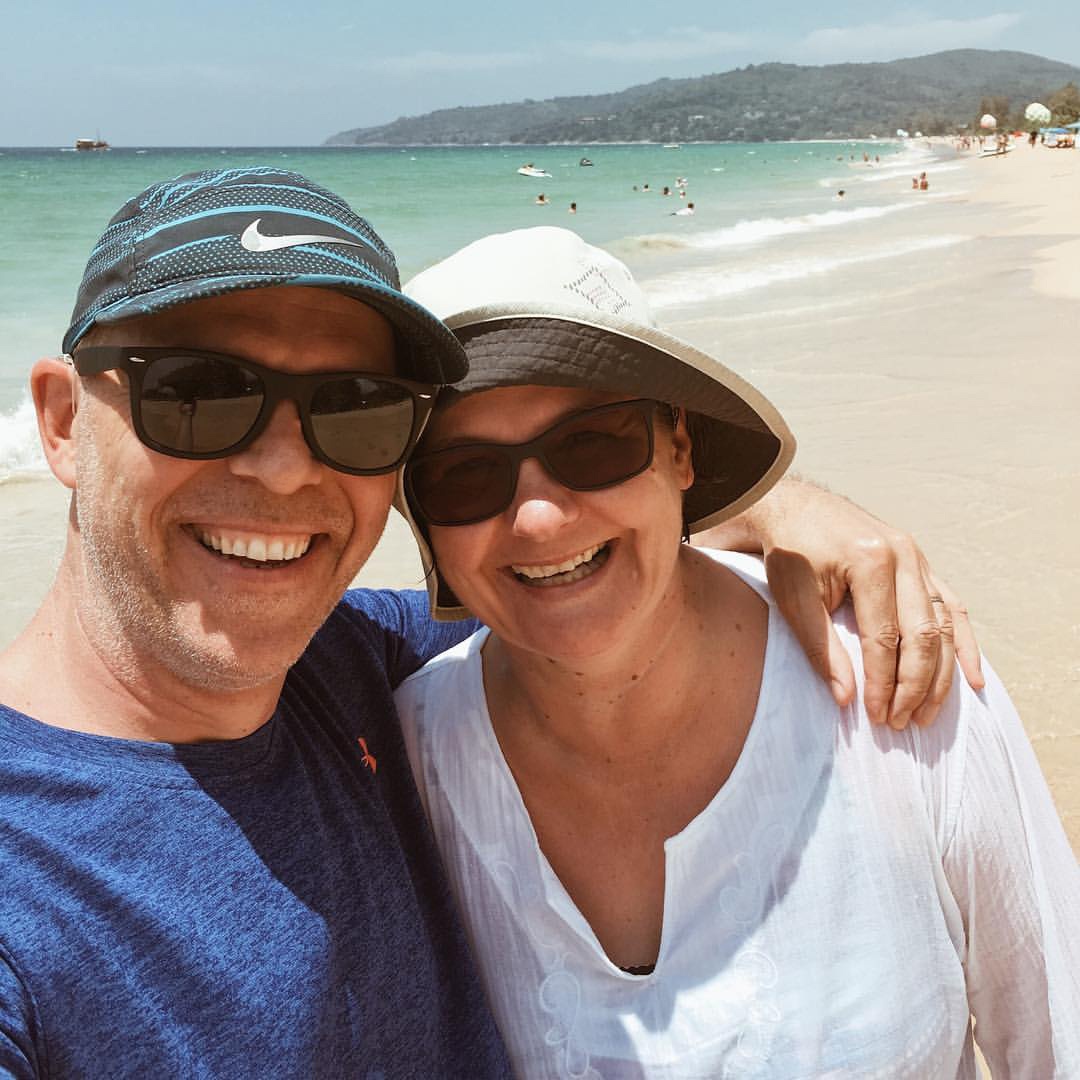 … on the beach in Phuket, Thailand. Click to read our post from Phuket.
The idea of 5050 Travelog came to life in the fall of 2014
Turn back time a few years to November 2014. Morten had turned 50 and Diana was not far behind. Our children had left the nest and our mortgage was up for renewal which was a bit of a downer. Why was the house not paid for yet? We had settled into a repetitive routine and realized nothing would change unless we changed something. We felt ready for a new challenge. We had itchy feet and as we mulled over our afternoon coffee at Starbucks, the idea of 5050 Travelog took root. A dream was envisioned.
The goal; Travel to 50 countries in 50 months after turning 50
We have always traveled as much as we could, right from day one. A Canadian exchange student arrived in Lemvig, Denmark in the summer of 1983 and Morten was intrigued and as they say, the rest is history. We traveled back and forth between our home countries in the next few years. Based in Denmark, we visited several countries in Europe; skied in Norway, France, and Austria. On route to testing the waters in Canada, we went on an exchange to Australia. Once settled we traveled in the US and visited Mexico a couple of times as we focused on raising our family. We always knew we wanted to see more; to better understand cultures and history. To feel the vibe of major cities and experience the majestic landscapes admired in photographs.
Selling our house to travel
At the time we lived in Vernon, BC and our kids lived in Vancouver and Victoria, BC. A small close-knit unit, we decided to settle closer to the kids but at the same time, we didn't want to crowd them. Solution —> Travel. Our financial situation would not allow for us to execute, meaning, something drastic had to happen in order for us to follow our dream. Check the post "Selling Our House to Travel" to get a better idea of the changes we had to make.
… at Jökulsárlón Glacier Lagoon in Iceland. Click to read our 5-Day Iceland Road Trip post.
Photography blog
A cornerstone of our project is photography. For more than thirty years Morten has been a self described photo nut. He loves cameras, lenses and editing but most of all capturing the images. Since 2002 he has operated his own photography business, mfoto.ca. The latest addition to our blog is Camera and Lens Reviews. For now we are concentrating on the Fujifilm X-Series, which is well suited for travel.
Who's in charge of details?
Diana is very patient and good at listening to the ever changing photo bag configurations. She keeps all things on track and looks after all the details - whatever they may be. Together we make quite the team. We would be honoured if you would follow along on our journey in the travel blog.
Where are we now?
We are currently in Vancouver prepping for phase three of our 5050 Travelog project, taking off in the fall of 2019. Check the Archives page to see where we have been so far. Our "25 Countries in 18 Months Summary" is also a good place to start or check the latest Blog Posts from our trip through Europe in 2018.
For those of you who are counting our Country/Month Count is:
33 Countries in 45 Months
Click to read our 25 Countries in 18 months Summary
What next?
Our next adventure starts in November 2019 and we are currently planning destinations in Europe, Southeast Asia and New Zealand. We are really looking forward to this and when all goes well our project will be wrapped up in early 2020. Who knows what will happen after that :)
Mission statement
The main goals for our travels are to experience the world as it is today, to photograph the many wonders, catch up with old friends and hopefully meet new friends along the way.
With a little help from our friends!
Support
All of the positive support and encouragement we have received after we have shared our plans and dreams are life affirming. Thank you. If you want to know more about our travels or would like to know more about how you can get started on a project such as this, please drop us a line. We would love to hear from you.
Happy travels,
Diana and Morten